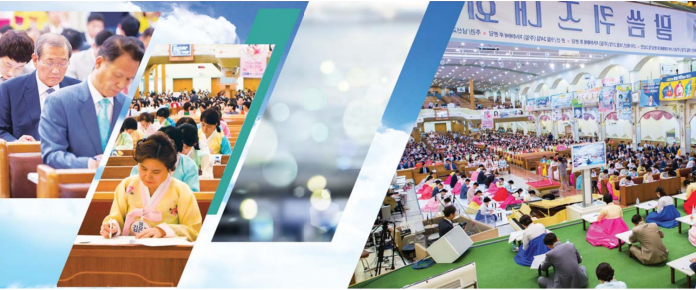 After Sunday Evening Service on September 16, 2018, the 18th Bible Quiz Contest was held in the central church and broadcast on the Internet.
Senior Pastor Dr. Jaerock Lee has emphasized on the Word and prayer for sanctification as 1 Timothy 4:5 reads, "for it is sanctified by means of the word of God and prayer." He urged to arm ourselves with the Word by reading a chapter and memorizing a verse of the Bible a day as well as studying such sermon series as "The Love Chapter," "The Beatitudes," and "The Nine Fruits of the Holy Spirit" to become sanctified and resemble God, which is the essence of a believing life. For the purpose of encouraging the members, the weekly verses started to be included in the church's weekly bulletin and the Men's Mission began to hold the Bible Quiz Contest annually.
Ninety-two contestants (70 from the central church and 26 from branch churches) made it to the final through the first and second preliminaries held on August 26, 2018. The test items came from the verses included in the church's weekly bulletins for a year (from August 2017 to July 2018). There were various types of questions including some that they can apply to their daily life. They also had pop quiz time and lottery time for the audience.
Brother Juel Park came through to the final for three years in a row with his father Pastor Heungyoung Park (Daejon). He said, "I started to memorize the Bible verses when I was six. My attention went up when I heard some verses that I memorized while listening to the sermon during the services. It is beneficial both for my spirit and my study. I developed my memory through this. I was ranked in the first place in school grade last semester. I was so happy."
Senior Deaconess Byunghee Jeon went to the final with her son Brother Seokki Cho and daughter Pastor Minkyung Cho and said, "I just tried to find how I could please the Lord, so I did it. It is such an honor to be here in the final and it is all by God's grace.
I am so greatly blessed through memorizing the verses and feel so good when they cross my mind in my daily life.
The Grand Prize went to Pastor Hyunju Kim. She was given a plaque and a ticket to the pilgrimage. The Golden Prize went to Deacon Sangkyun Kim (Canaan Mission), the Silver to Deaconess Kehyun Ahan and Pastor Heungyoung Park (Daejeon), and the Bronze to Pastor Namsuk Heo (Daejeon), Deaconess Seungju Lee (Canaan Mission), and Senior Deaconess Sunyoung Kim (Masan). They were each given a plaque and prize money. Also, all the other participants who went into the final round of the finals were given an Encouragement Prize and prize money too. The other participants received the Participation Prize.
Manmin Central Church, manmin.org