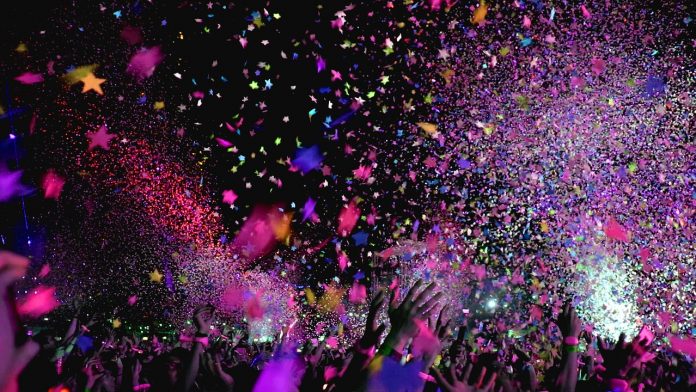 EUGENE, Ore., Aug. 3, 2018 /Christian Newswire/ — Through the unified efforts of more than 100 Lane County church and ministries over a two-year period, people of all ages and demographics gathered on July 28 at PK Park for a free, family festival known as CityFest with Andrew Palau.
Throughout the day at CityFest more than 9,500 people attended the event (the largest audience PK Park has hosted). The event featured some of the biggest names in contemporary Christian music, including TobyMac, Rend Collective, and Tedashii. There was something for everyone including an interactive Family Fun Zone filled with inflatables, games, crafts, and sports challenges and a children stage show featuring ventriloquist Mark Thompson.
There was also demos of awe-inspiring stunts from professional skaters, BMX, and freestyle motocross riders. Extreme Sports Athlete Vic Murphy shared his personal story of finding true joy in Jesus. Across the stadium, several hundred people personally responded as global evangelist Andrew Palau shared a message of hope from his personal story — which has strong ties to Eugene.
"25 years ago, I lived here going to the University of Oregon and on summer days just like this, I prided myself in being the partier," Palau shared with the sea of people. "I foolishly carried on for so many days drinking and using drugs, trying to find joy. I love the way God brought me forward. You may not relate to my story, but you have your own story and you're not alone. The Bible tells us that we all have sinned, all of us have gone astray. But I want to make sure you know what God has promised you – the abundant life. A rich, fulfilling life. It's a promise and it's a promise for you."
Palau's story is detailed in his 2012 book "The Secret Life of a Fool: One Man's Journey from Shame to Grace." 
"There were so many emotions wrapped up in this festival for me," Palau said. "I went to school at the University of Oregon. They were good days back then, but I wasn't walking with the Lord. It wasn't until the age of 27 when I finally surrendered my life to Jesus. It was at a festival just like this one. It's such a privilege to return to Eugene top share this message of hope . . . to tell those hurting of the radical transformation God can bring."
The stadium was filled with a sense of peace and joyful celebration, said Festival Director Randy Burtis.
"And the many challenges of putting together such a large, well-executed, free event were met with cheerfulness and innovation as so many people from churches across the community worked together."
CityFest was so much more than one great day at PK Park. It was a partnership between the Luis Palau Association and over 100 local churches and organizations like the One Hope Network and Every Child focusing on serving those in need of physical, emotional, and spiritual support.
Through Project Hope, which was established eight years ago by local churches, and working with the One Hope Network more than 3,000 students received free school supplies, haircuts, and shoes for the new school year. Hundreds of volunteers from local churches also united to accomplish school cleanups and provide necessary items for hundreds of foster children in the area.
Efforts leading up to CityFest included the "Come and See" gathering of more than 600 U of O students that filled the EMU ballroom, a breakfast for first responders, an evangelistic dinner for 400 women, an outreach at a youth correctional facility, a skate outreach to at-risk youth, and the forming of a new Hispanic church network.
In a major prayer effort, Lane County churches covered every day of the month with 24 hours of prayer for Lane County and the CityFest campaign.
"These were not one-time efforts but the beginning of a continuing effort as CityFest partnered with the One Hope Network and many individual congregations," Burtis said.
"People in Eugene are finally seeing Eugene churches in a different light and a festival and campaign like this helps with that," Craig Curtis, pastor of Camp Creek Church in Springfield, said.
Going forward, Andrew Palau, along with the CityFest Executive Committee and leaders of the Luis Palau Association, hope the unity established through CityFest continues to deepen and spread, eventually encouraging more citywide outreach efforts and ongoing service initiatives throughout the Lane County.
"Our sweet Savior graced us with your ministry and the ministry of your entire organization to change the spiritual landscape of our city," said Ben Cross, pastor of First Baptist Church in Eugene. "I believe the "first fruits" of the festival events will lead to a greater harvest to come as our partnership has made as great an impact on the Church as it has on the new conversions."
"People need hope everywhere, especially here in Eugene," said Steve Hill, pastor at Grace Community Fellowship Church. "CityFest gave people a reason to be hopeful. About today. About the future."
About Andrew Palau: For nearly 25 years Andrew Palau has played a key role in the ministry of the Luis Palau Association. He has been instrumental in building the LPA model for citywide outreach as an evangelist, director, and key team leader. He has guided campaigns, led church relations efforts, trained thousands of believers in friendship evangelism, and proclaimed the Good News of Jesus Christ in person to hundreds of thousands of individuals in cities throughout Latin America, Africa, Asia, Europe, Australia, the Caribbean, and the United States of America.
Palau's weekly radio broadcasts are heard by millions of people on hundreds of radio outlets. He is also the author of multiple books and a regular contributor to national publications with articles on issues of faith.