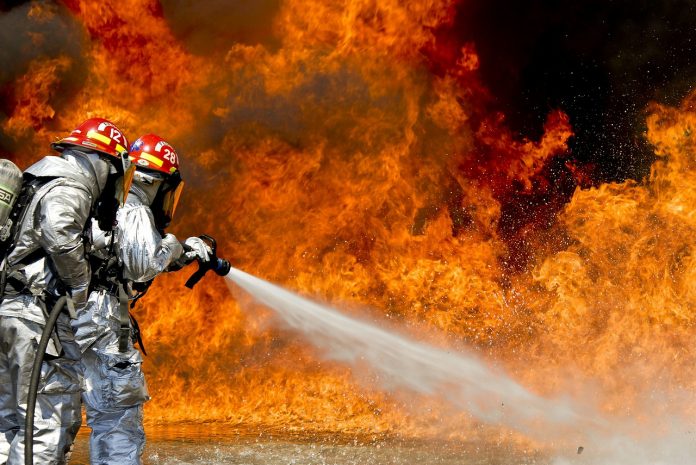 Fire being called one of the most destructive in state history, has claimed hundreds of homes
Contact: Erik Ogren, 704-577-2109, eogren@bgea.org
CHARLOTTE, N.C., Aug. 1, 2018 /Christian Newswire/ — Crisis-trained chaplains with the Billy Graham Rapid Response Team are in Redding, Calif., ministering to the emotional and spiritual needs of homeowners and those displaced by the Carr wildfire. According to current news reports, the fire has destroyed nearly 1,000 homes and has claimed the lives of six people, including two firefighters. It's already being ranked as one of the worst fire disasters in the history of the state.
"Every time we witness a wildfire we are amazed and grieved by the power of the blaze and the devastating impact that it has on those caught in its path," said Jack Munday, international director of the Billy Graham Rapid Response Team. "Many are staying in shelters right now, unsure of what is happening to their homes. Others have been confronted with the sad reality that all they've worked for is now ash and rubble. Our teams will offer the hope and comfort of Jesus as people begin to search for answers and a 'new normal' in their lives."
The Billy Graham Rapid Response Team is deploying in coordination with Samaritan's Purse, the Christian disaster relief organization also headed by Franklin Graham. Together the two ministries will address the physical, emotional and spiritual needs of those who have been affected.
"Please pray for those in the path of this deadly wildfire that is tearing through communities in California," said Graham. "Especially pray for the protection of all those battling this and many blazes in several states in the west."
The deployment to California is the latest in a series of outreaches following natural disasters. Crisis-trained chaplains are also currently meeting emotional and spiritual needs in Mati, Greece (wildfire); Hidalgo County, Texas (flooding); and Marshalltown, Iowa (tornado).
About the Billy Graham Rapid Response Team:
The Billy Graham Rapid Response Team was developed by Franklin Graham and the Billy Graham Evangelistic Association following the attacks of Sept. 11, 2001. It has since grown into an international network of chaplains in the U.S., U.K., Canada and Australia who are specifically trained to deal with crisis situations. They have deployed to more than 300 disaster sites, including shootings, floods, hurricanes, wildfires and tornadoes.