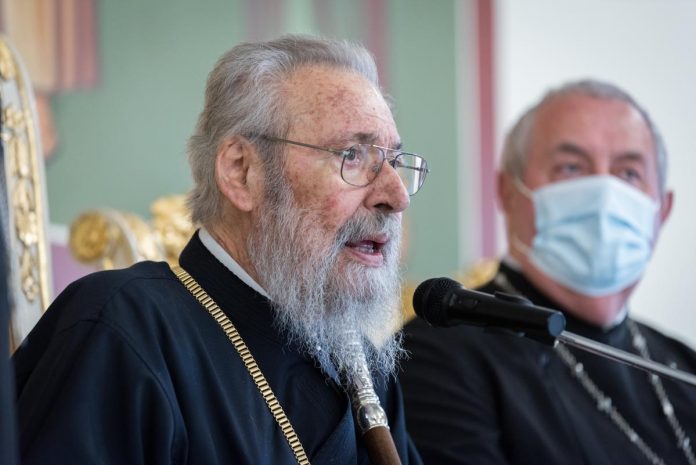 Local host and head of the Church of Cyprus, Archbishop Chrysostomos II, welcomed members of the World Council of Churches (WCC) Inter-Orthodox Pre-Assembly at his residence in Nicosia, Cyprus, on 12 May, the Feast of Saint Epiphanius. The meeting acknowledged contributions from the Church of Cyprus to the ecumenical movement, as well as the aspiration of churches to see a united island, partitioned as result of the Turkish invasion in 1974.
Archbishop Chrysostomos II warmly welcomed the members to his residence and underlined the needs for the Orthodox family to meet, discuss, pray, to prepare for the WCC 11th Assembly and try to overcome all obstacles they are facing at a time when the world is divided, and so are churches. He recalled the WCC's important role to bring the Orthodox family together. He also acknowledged the important work by the WCC under the leadership of acting general secretary Rev. Prof. Dr Ioan Sauca.
At the meeting, Sauca expressed appreciation for the contributions from the Church of Cyprus to the ecumenical movement. Sauca commended efforts to work towards unity and the very concrete unification of Cyprus. "Since our vision at the WCC is to promote a platform of dialogue, your country becomes a beacon of hope in a divided world, as you are seeking peace, reconciliation and love between the communities," Sauca said.
"We have for the last days experienced your great hospitality and your strong commitment to the dialogue of life. This is one way of reminding people to build their dreams of a united, peaceful, prosperous Cyprus, even if this dream is accompanied by the memories of pain," he said.
"It is our hope and prayer that the vision of the churches and religious communities in Cyprus for peace and unity is realized," Sauca added.
Honoring a legacy
The archbishop hosted a lunch in Nicosia for the delegation and organised in the afternoon a visit to the old town of Nicosia, divided by the occupation. The group visited the buffer zone observed by the United Nations.
The diverse Orthodox family also celebrated the Feast of Saint Epiphanius, gathering at the Metropolitan Cathedral of Saint George in Paralimni, Cyprus.
Chants, hymns and words of prayer filled the church as the representatives of a total of 20 different Eastern and Oriental Orthodox churches from around the globe venerated the saint together.
His Eminence Metropolitan Dr Vasilios of Constantia and Ammochostos of the Church of Cyprus welcomed the ecumenical group to the church, speaking of the importance of the annual day for the local church and of the legacy of Saint Epiphanius for the Church of Cyprus.
Saint Epiphanius is one of two patron saints of the Church of Cyprus today, the Metropolitan explained, noting that the 4th-century bishop and metropolitan of Church of Cyprus was instrumental in shaping the early days of this WCC member church – whose autocephaly was recognized at the third ecumenical council, convened in Ephesus in AD 431.